The Hive Healthcare is a multidisciplinary medical hub that provides medical professionals and therapists the freedom to do what they do best: providing medical services. ​
We handle everything else, from clients' booking to maintenance. We offer everything that is needed for our medical specialists to work together and provide the best holistic service to their patients. ​
With highly experienced medical professionals that are flexible in their approach, we make sure our clients are taken care of at every step of their medical journey for ultimate health and wellness. ​
Aren't you due for a medical check-up? ​
From routine check-ups and preventive screenings to managing chronic illnesses and providing timely medical interventions, our general medicine specialists are committed to delivering personalised and compassionate care. By establishing a strong doctor-patient relationship, they serve as your trusted healthcare partners, guiding you through the complexities of your health and helping you make informed decisions.
Whether you have concerns about your physical health, require vaccinations, or need expert medical advice, our general doctors are here to support your journey towards optimal health and longevity.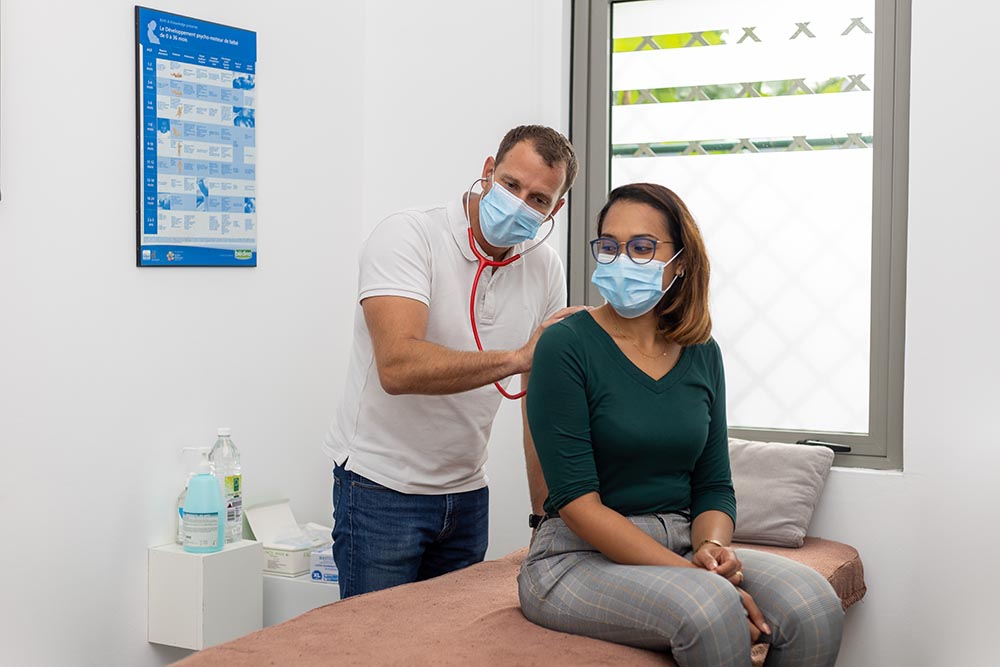 We understand the importance of maintaining healthy teeth and a beautiful smile. Our experienced dentists provide a comprehensive range of dental services for patients of all ages, from routine check-ups and cleanings to advanced restorative and cosmetic treatments. With a focus on preventive care, our dental team works closely with each patient to develop personalised oral hygiene plans and educate them on the best practices for maintaining optimal dental health.
Whether you need a simple filling, a teeth whitening treatment, or a complete smile makeover, our skilled dentists are here to deliver exceptional dental care in a comfortable and relaxing environment. Trust us to keep your teeth and gums in top shape and enhance your confidence with a radiant smile.
Children are precious, and their health and well-being are of paramount importance. Our doctor provides comprehensive medical care for infants, children, and adolescents. We are passionate about children's health and aim to provide a nurturing and child-friendly environment to ensure their optimal growth and development. From routine check-ups and immunizations to diagnosing and treating childhood illnesses, we are well-equipped to address a wide range of medical concerns specific to young patients.
With a compassionate and gentle approach, we strive to build trust and establish long-lasting relationships with both children and their parents, ensuring that their healthcare needs are met with the utmost care and expertise. Trust us to provide the highest standard of paediatric care and support your child's health every step of the way.
Discover the art of enhancing your natural beauty with our skilled beauticians. From rejuvenating facials to expert nail care, our personalised treatments will leave you feeling confident and radiant.
Indulge in a world of pampering and unlock your true beauty potential at THE HIVE Healthcare.
Explore our range of Sports and Coaching services. Our experts will guide you towards an active and balanced life through tailored programs, group fitness training, private classes and open gym. Achieve your fitness and well-being goals with our experienced trainers. Enhance your mental and physical health with our personalised coaching. Join us for overall better health.
A balanced and healthy diet can be the key to achieving your ultimate healthy body and mind – and we are not talking ripped abs here. Eating right is more than just looking good, it's all about feeling great! Nutrition is a lifestyle choice that comes with plenty of perks, like reducing your risk of heart disease, improving your digestion, managing diabetes and disordered eating, boosting athletic performance, dropping pounds or gaining where it counts, warding off fatigue and squashing food intolerances.
Nothing should stop you from taking control of your health and achieving your nutritional goals. That's where our nutritionist comes in - to serve as your guide as you refine your eating habits and create a diet that works for you.
No more sacrificing the things you love but finding ways to enjoy them in a smarter way. Get ready to take control of your health with ease — without ever skimping on flavour!
Osteopathy is a fantastic way to explore the depths of your wellness. It not only deals with physical manifestations of your health but also looks at the functionality of its many processes through the lens of lifestyle and habits. ​ Regardless of whether you are dealing with illness or simply looking for healthier ways to get your body going, osteopathy provides a holistic approach that works for all ages.
Our osteopath will solve a variety of annoying ailments. Whether it be the aches and pains of having worked out too much or chronic cramps, he can set you straight - or at least straighter! He can also tackle more serious issues like migraines and stress.
All of this with some deft manual manipulations and exercises that will make you feel on top of the world! Put your trust in the hands of our professional osteopaths and prepare to feel more energised and relaxed than ever before.​
Living life can be like walking a tightrope; a balancing act of hope and fear. In the face of uncertainty, fear and struggle, it is often hard to process our emotions in a rational manner. ​ Psychologists and therapists can be our safety lines - their expertise and skilful guidance can help us understand our difficulties and see where our self-awareness needs strengthening. ​
By recognizing both personal strengths and sources of underlying stress, we are able to build emotional resilience, enabling us to take the necessary steps towards well-being. ​ Ready to take charge of your mental health?
Our psychologists and therapists offer an expert helping hand to grant you more meaningful control over your wellbeing. ​ Whether you're seeking comfort or clarity, make the wise move and come see what our psychologists or therapists will have you moving forward with balance and clarity.​
Massage therapy creates a wonderful connection between the body and mind to give us back our energy and allow us to live with more ease. Who doesn't want that?​
Not only does it make magic of sore muscles, elevated stress levels, and low-quality sleep, but it is also quite the hero in fighting off illness by helping to boost the immune system and flush toxins from our bodies. ​
Massage therapy has something to offer everyone no matter their age or physical condition - it really is a treat for all! ​
Pregnant Moms can reap the rewards of targeted treatments, and elderly people can also get in on the amazing effects of massage. Athletes too experience its wonderful benefits such as improved performance and decreased risk of injuries. ​
It is time to harness the power of massage and join the many who have discovered the harmonizing power of this therapeutic practice!​
Physiotherapy is no longer just for those who have sustained an injury - it's for everyone and anyone! Whether you've had a sports injury, poor posture, or are just looking for ways to prevent pain in future, physiotherapy has you covered. ​
Boasting an impressive range of active (think medical gymnastics!) and passive (hello massage!) treatments that can offer both therapeutic and preventive care, physiotherapy is the perfect way to keep your body functioning optimally - no matter your age. ​
Physiotherapy is an unsung hero of the healthcare world. It is a great way to help people bounce back after encountering something like a fracture, or offering relief for conditions such as osteoarthritis, scoliosis and lower back pain. It can even be used to help with neurological or respiratory disorders – from chronic bronchitis to rheumatism. ​
All in all, it can be a huge benefit for just about anyone dealing with uncomfortable symptoms!​
We often take our feet for granted, barely even thinking about their role in our daily lives until they start to hurt. Without them constantly supporting us, how much would our lives really change? ​
Luckily, there is something that can be done to help keep your feet healthy and strong. ​
Don't let foot pain stop you from doing activities that make you happy! If your feet are feeling out of whack, it's time to visit a podiatrist. ​
This friendly foot care professional can help get your feet back in good condition so that you can be back on your feet in no time. They will customize an effective treatment plan to address any specific issues you're dealing with and offer quick relief so that you won't have to worry about any limitations caused by the pain. ​
From treating chronic conditions to providing the right sole, the podiatrist is the one-stop-shop for all your unique foot and nail needs – so don't put off tackling those pesky aches and pains!​
Sports medicine is a field that caters to all kinds of sporty bugs! ​
If you are an active person and something goes awry, those specialising in sports medicine are there to provide the prevention, diagnosis and treatment needed for any pathologies that might be affecting their performance. ​
Whether your body is unfairly responding with cardiovascular issues, digestive problems or haematological discomforts – they've got it covered. And of course, no athlete wants aches where they shouldn't be having them, so joint or muscle pain get the attention they need with the help of these experts too!​
If you're an athlete looking to achieve the peak of sporting excellence, it is essential that you keep a close eye on your body and its needs. A doctor specialised in sports medicine can quickly spot any signs of inflammation or fractures, meaning tendinitis or fractures don't stand a chance!​
As a healthcare profession, speech therapy has more tentacles than you may think. Beyond the obvious assessment, diagnosis and treatment of language and communication impairments, it also involves addressing issues related to mouth and facial functions - from swallowing problems to rehabilitating droolers - as well as aiding with cognitive activities. ​
Speech therapists are miracle workers, capable of helping individuals cope with the profound effects of a disorder, no matter their age. ​
With great care and detail, they evaluate each patient to understand their unique needs, and then construct a treatment plan tailored to them. ​
Whether it be someone with congenital issues or an injury acquired later in life, a speech therapist with their ever-expanding toolkit can provide devices and techniques to help those fighting against these impairments. ​
Discover a seamless way to connect with the perfect therapist at THE HIVE healthcare.
Our easy-to-use Appointment Booking System lets you book an appointment with any therapist in our centers in just a few clicks. Explore a diverse community of healthcare professionals, check availability, and select a convenient time slot. Enjoy flexibility and convenience with customisable appointment options. Rest assured knowing your privacy is our priority.
Take the next step towards your well-being today. Start your transformative journey at THE HIVE healthcare
Subscribe to THE HIVE news!
Our monthly newsletter on business, entrepreneurship & everything our community is up to
Address

N#9 Nouvelle Usine, Mangalkhan, Vacoas Phoenix, Mauritius